Bachelor in Paradise star addresses break up on his on his iHeartRadio podcast, "Help! I Suck at Dating with Dean Unglert"
ByMeg SwertlowApr 11, 2018 2:10 AMTags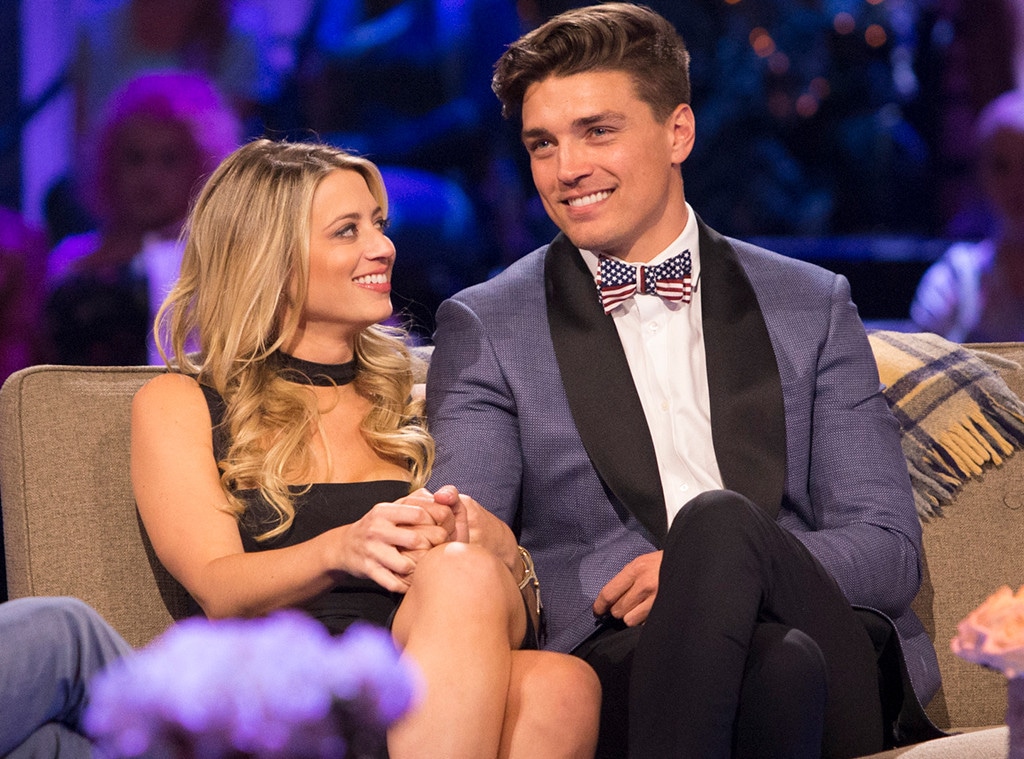 ABC/Paul Hebert
Dean Unglert's got a lot to think about following his recent split from The Bachelor Winter Games' Lesley Murphy, who left the show as a couple, only to break up last week after four months of dating.
The candid reality star opened up about what went wrong on the the brand new episode of his iHeartRadio podcast Help! I Suck at Dating with Dean Unglert, entitled "What's Inside My Head."
Dean explains on the podcast that before going on the most recent Bachelor iteration, a friend asked him, "What's the one thing that you want out of a relationship going in?"
"The one thing I want is just to know I feel loved back. I want to feel loved," responded the reality star. "The worst part about all of this is that Lesley did feel that way about me regardless of everything. I know that she did love me."
The contemplative TV personality said that despite getting what he'd hoped for, he and Lesley weren't a forever love-match.
"I got the one thing that I wanted but it still didn't end up working out, which is one of the worst things to come to the realization of," said Dean. "I've been meditating more and I'm going to start going to therapy this week."
Getty Images/Grizz Lee
Dean also said that his family dynamic has certainly shaped how he views healthy relationships. 
"I don't really think I've ever had a strong example of a good relationship in my entire life. My parents didn't really like each other when I was growing up…I've never really had a relationship to look up to and I think that takes a big toll on what I think a relationship should be like."
Dean confesses he does not want to be like his own father, whom he had previously been estranged from, "I have this crippling fear of turning like my father…I have this instinctive defensive thing to kind of push away from the good things in my life and hopefully therapy will end up helping me out with that."
The Bachelor Nation member said that he "needs to come to terms with a lot of the issues" so that he can look himself in the mirror.
Dean's mother died when he was just 15 years old.
"All of this boils back down to I think my issues, my insecurities, my incredible fear of abandonment and needing to belong somewhere," said the forlorn reality star.
He continued to speak about what the couple broke up: "The guilt, the remorse, the depression and anxiety that I feel right now—it sucks—but I think if the relationship kept going, it would have been much worse if it got to this point again, you know? All of these feelings are a fraction of what I assume would have been if a breakup happened in six, nine, 12 months when emotions continue to grow and grow."
Despite the fractured relationship, the fan-favorite also had nothing but kind things to say about his former flame.
"Lesley was an incredible girlfriend. I know one day she'll be an incredible wife and wonderful mother. She's a great aunt to her two nephews and she's a great girl," gushed the star.
On Sunday, Lesley broke her silence over the breakup. While she did not directly address the split or what happened, Lesley did say that finding someone who was "ready" was important to her.
"I know it's imperative to find someone who chooses us and acknowledges our many layers, who can be open and vulnerable, and most importantly, who is ready," wrote Lesley in her lengthy Instagram post. "To meet someone and be met. To be chosen and to choose. To love and to be loved. This is everything."
We hope both Dean and Lesley get what they're looking for!
Trending Stories
Did you mean:
2018年4月10日 … Your source for entertainment news, celebrities, celeb news, and ​celebrity gossip. Check out the hottest fashion, photos, movies and TV shows!
2018年4月6日 … Exclusive: After finding love on The Bachelor Winter Games, E! News has learned that Dean Unglert and Lesley Murphy have broken up.
2018年4月7日 … He shared his post a day after E! News learned he and co-star Lesley Murphy have broken up.
2018年4月11日 … The Bachelor Winter Games costars split last week after meeting on the Olympic-themed spinoff.
2018年5月29日 … Dean Unglert is opening up about his split from Lesley Murphy. ET's Lauren Zima sat down with the Bachelor Winter Games star for Tuesday's …
2018年4月12日 … No shame in this game: After his recent breakup with the travel blogger, the three-time Bachelor Nation alum is focussing on himself.
I'm Lesley Murphy, a travel journalist, TV personality, yoga teacher and new mom! Feel free to click through my travel adventures for a digital vacay, …