B RCinematic HistoryHollywood HistoryPhotos0 Comments94
We wanted to feature some of the most stunning actresses throughout the golden years of Hollywood, but we quickly realized that there were so many to choose from. So we came up with a few to get the ball rolling and we want your help with the rest. Who are we missing? Leave a comment below to see your personal favorite featured.
Marilyn Monroe
What list of most beautiful women of the early '50s,'60s, and '70s would be complete without the one and only Marilyn Monroe? She was the definition of high class beauty and sex appeal during her time and there wasn't a man alive that didn't have a crush on her in one way or another. Her film career only lasted about 10 years but she's still considered a major pop culture icon even to this day.
Raquel Welch
There wasn't a teenage boy growing up in the 60's and 70's that didn't have a poster of the incredible Raquel Welch from the movie One Million Years B.C., which was released in 1966. Many believe her to be one of the most beautiful women of all-time, and even still to this day Welch is still actively working in Hollywood.
Ursula Andress
Now this could be one you might not have hear of, I know I hadn't. But one look at those beautiful eyes and I knew she had to be on the list, plus she played the very first Bond girl, Honey Ryder in the 1962 release of Dr. No. Interestingly, just five years later she appeared in the Bond-parody film, Casino Royale. She would work up into the late 90's but since has fallen out of the spotlight. But she will always get to hold that title of the first Bond girl.
Sophia Loren
Miss Sophia Loren began her career at the young age of 15 in Italy where her natural beauty was immediately recognized at a beauty pageant. Her first international film, The Pride and Passion, was released in 1956 by Paramount. Her thick Italian accent only added to her appeal and before long she had a list of achievements a mile long, including an Academy Award, five Golden Globes and a Grammy.
Jacqueline Bisset
Making her film debut in 1965, Jacqueline Bisset and her sparkling green eyes made a serious impression on studio executives all over Hollywood. Just two years later, she appeared in the James Bond film, Casino Royale, and the following year Bisset made an appearance in the hit movie Bullit with Steve McQueen.
Elizabeth Taylor
Arguably one of the most popular movie stars of all time, as well as one of the most breathtakingly beautiful, Elizabeth Taylor began her career in the film There's One Born Every Minute in 1942. In the 1950's she was the most bankable star in Hollywood, anything she touched turned to gold. Her role as Cleopatra in 1963 earned her $1 million, which was a record for female actresses at the time.
Brigitte Bardot
At the young age of 15, French actress Brigitte Bardot made her modeling debut as she landed the cover of the uber-popular French magazine, Elle. Her long blonde hair and trademark smile helped her move into movies. in 1953 she was featured in the film Act of Love with Kirk Douglass. She retired in 1973 after starring in more than 47 films!
Jayne Mansfield
Jayne Mansfield is not only one of the most beautiful women of the '50s, '60s, and '70s, but she would put up a good argument for one of the most beautiful women of all time. Her gorgeous smile, sparkling eyes and flowing blonde hair helped her become the dream girl of every man that came across her path. It also helped that she was the first woman of Hollywood to perform a nude scene on screen. Unfortunately, a horrific car accident took her life when she was just 34 years young.
Farrah Fawcett
Farrah Fawcett is arguably one of the most iconic and beautiful women in the history of Hollywood. Not only was she a brilliant actress, but she was incredibly smart in regards to show business. She was one of the first women to create herself as a brand; there were Farrah Faucet dolls, posters, and many other things and she had a hand in it all. It also helped that she was the definition of the girl next door with that natural beauty. She even created her own hairstyle called the "Farrah Flip" that could be seen on pretty much every woman in the 1970's.
Jane Seymour
Jane Seymour was best known in the early part of her career for her role in the 1973 James Bond film, Live and Let Die. She is another woman that has a film and TV career that has lasted more than four decades. Seymour just finished shooting the movie Mistrust, which is scheduled to debut in 2017.
Lauren Bacall
Like many women on our list, Lauren Bacall started as a model before making her move to the big screen. It was 1944 when she would make her film debut with Humphrey Bogart in, To Have and Have Not. Bacall had a very distinctive voice and that with stunning good looks made her quite the force to be reckoned with.
Ann-Margret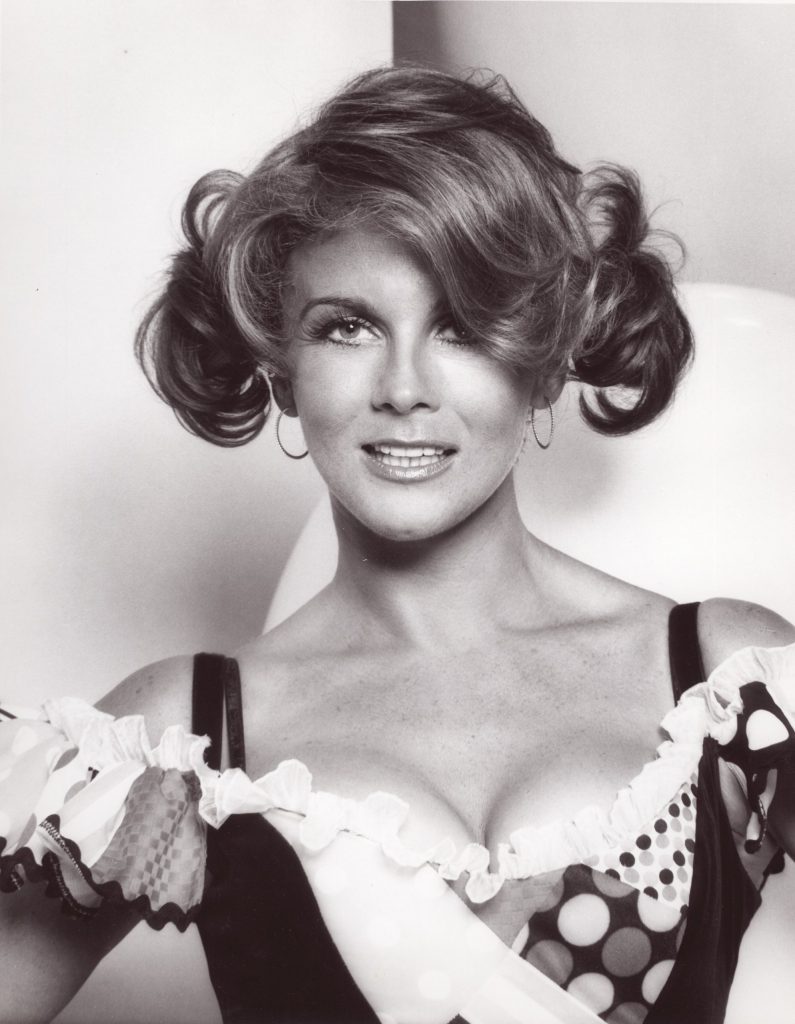 Photo: source
Once referred to as the female version of Elvis Presley, Ann-Margret took Hollywood by storm in the 1960's. Both a singer and an actress, her beauty and talent were unmatched as her career spanned more than five decades. She starred in famous films such as Bye Bye Birdie, Tommy, and later in 1993 the hilariously funny Grumpy Old Men as the love interest Jack Lemon and Walter Matthau fought over. It was reported that she just finished shooting a movie Going In Style that is scheduled to air in 2017.
Audrey Hepburn
To be considered one of the most beautiful and iconic women of the golden age of Hollywood is quite the honor, and if anyone qualifies for that title it has got to be Audrey Hepburn. Starting as a ballet dancer she got a role in the Broadway play, Gigi. Two years later, she solidified her place in Hollywood history by winning an Academy Award, Golden Globe and BAFTA award all for her role in the 1953 film Roman Holiday. Hepburn is the only actress in history to win all three for a single performance.
Jessica Lange
Jessica Lange made her Hollywood debut as the blonde beauty along with her big hairy beast of a co-star in the 1976 remake of King Kong. She was a former model that went on to become an award-winning actress. Lange also co-starred with Dustin Hoffman in the critically acclaimed film Tootsie.
Sally Field
Who could forget the lovely brunette that co-starred in the famous film Smokey and The Bandit with the legendary Burt Reynolds. Sally Field started as a TV actress in the early 60's, appearing in the famousGidget series. With her big, radiant smile, Field didn't hesitate to show her range as an actress going from comedic roles to very serious dramatic roles. Her natural beauty earned her a spot on many, many reputable lists of Hollywood's most beautiful leading ladies.
Martha Stewart
This may come as a shock to some that didn't grow up in this era, but long before Martha Stewart was showing the world how to bake the perfect cake, she was actually a model! When Stewart was a child, she had the lucky job of occasionally babysitting Major League Baseball star Mickey Mantel's children. In college, she had a modeling job that paid more than $50/hr., which at the time was a significant amount of money.
Nina Mae McKinney
Miss Nina Mae McKinney just barely qualifies for our list because she made her final stage appearence in 1951. But with that beautiful smile we felt as if she needed to be included. Most of her film career took place in the late '30s, even earning the nickname of the "Black Garbo".
Diane Keaton
Hollywood director, producer, screen writer and breathtakingly gorgeous actress, Diane Keaton had her major film debut in 1972 when she played the wife of Michael Corleone in the famousGodfather Trilogy. Keaton had the girl next door look that America and the rest of the world fell in love with. She went on to star in more than 65 combined films and TV series, even playing the voice role of "Jenny" in the recent Disney Pixar film Finding Dory. Keaton iscurrently filming a movie scheduled to release in 2017
Faye Dunaway
Faye Dunaway started her career on Broadway in the early 1960's before making her on screen debut in the 1967 film The Happening. Later that year, Dunaway appeared in the gangster film Bonnie and Clyde. Dunaway has one of the most incredible smiles in Hollywood and she wasn't afraid to use it. She has starred in more than 100 roles in either TV or films over her long, illustrious career.
Shirley MacLaine
Shirley MacLaine was one of the most sought after actresses in Hollywood in the 1950's. MacLaine made her film debut in the Alfred Hitchcock film The Trouble With Harry in 1955. She immediately put herself on the map winning a Golden Globe for New Star of the Year. From that point on, she would be cast in major films up to and including time of this writing, according to reports, has just finished filming a new Little Mermaid film.
Helen Mirren
One of the few people that have ever achieved the "Triple Crown" of acting, Helen Mirren, also happens to be one of the most beautiful women of the 60's and 70's. The triple crown is winning an Oscar, Emmy and Tony all in the acting categories which can't be an easy thing to achieve. Making her film debut in the late 60's, Mirren would go on to have an extremely successful career that is still going strong today. Her role as the Queen in the self titled 2006 film won her all kinds of awards, including the Academy away for best actress.
Cybill Shepherd
Staring in her first film, The Last Picture, in 1971 the lovely Cybill Shepherd cemented herself as one of the most beautiful women in Hollywood. She also modeled before making her debut on the silver screen, in 1966 she was named "Miss Teenage Memphis". Just two years later she graced the cover of every major magazine as the model of the year.
Natalie Wood
Natalie Wood is most recognized for her on screen roles in Rebel Without a Cause, West Side Story, and Miracle on 34th Street. Heer girl next dorr look and gorgoues eyes made her one of the leading ladies of Hollywood. She went on to marry actor Robert Wagner, twice actually, then on to Richard Gregson who was a producer.
Meryl Streep
Many people feel that Meryl Streep might be the best actress of her generation, which would really be saying something considering the competition out there. She first started on stage at Broadway before making her film debut in the late 70's and by 1979 she had already won an Academy Award for best supporting actress for her role Kramer vs Kramer. She has more than 19 nominations from the Academy, more than any other actor or actress in history.
Susan Sarandon
I don't know that any other female on this list could claim the have been appointed the UNICEF Goodwill Ambassador like Susan Sarandon was in 1999. Sarandon has been gracing the silver screen since 1970 when she debuted in the film Joe. She even starred in the cult classic film, Rocky Horror Picture Show, filmed in 1975. For her work on television she has earned five Emmy's. My all-time favorite might have to be her role of hardcore baseball fan in Bull Durham.
Lena Horne
Lena Horne made a name for herself as a talented actress, singer, and dancer in the late '40s. But her reuputaion as a political activist got her somewhat blacklisted for a short period of time from working in Hollywood after the Red Scare. Not one to give up easily, she went back to her roots performing at nightclubs and other small venues.
Judy Pace
If you were a fan of the Blaxploitation films you will surely recognize this lovely lady. Her name is Judy Pace and she also played the character of Pat Walters in The Young Laywers on ABC. He went on to win an Image Award for Outstanding Actress in 1970.
Julie Newmar
Julie Newmar is the lovely actress that hada very successful career both on stage and on screen starting in 1952. Some of her most notable roles consist of her performance in the Broadway production, The Marraige Go-Round, for which she earned the Tony Award. But it was her role as catwomen in the hit TV series Batman in 1966-67 that really put her on the map, at least in the eyes of every teenage boy in America.
Sandra Dee
Sandra Dee first came onto the Hollywood scene as a child model and then slowly wmoved into working in TV commercials. By the time she was a teenager she had started to transistion into films. She even won a Golden Globe Award for being one of the years most promising newcomers. She had a very public marraige to Bobby Darin that unfortunately ended in divorce.
Bo Derek
Bo Derek started her movie career at the young age of 16 in 1973, but it wsa her role in the film 10 that was released in 1979 that made her an international sex symbol that lasted through the '80s and beyond. She also had a poster of her in a swimsuit from the film that turned out to be a best seller.
Tuesday Weld
This blonde beauty is Tuesday Weld who was an American actress that got her first break when she was just a child. But she soon matured into a lovely young lady and started playing more gown up roles. She won a Golden Globe for Most Promising Female Newcomer in 1960. One of her most popular films was Looking for Mr.Goodbar, for which she recieved an Academy Award nomination.
Dorothy Dandridge
The lovely Dorothy Dandridge was the first African-American Actress to be nominated for an Academy Award in the Best lead actress catergory for her role in Carmen Jones. She was also a very talented singer as well as a dancer on top of beaing a beautiful woman.
Rita Moreno
This lovely lady is none other than Rita Moreno, the Puerto Rican actress whose career has spanned over the last 70 years. She starred in West Side Story as well as the King and I in the early stages of her career and could still be seen on television today. One of her greatest achievements is winning all four of the major awards, Emmy, Oscar, Tony, and Grammy. Only 12 performers in history accomplished this monumental status.
Cheryl Tiegs
Now it could be argued that Cheryl Tiegs is technically not an actress and is considered to be more of a model. But she does have quite a few TV appearances over the years and considering that she's absolutely gorgeous we decided to let her slide. Tiegs is often referred to as the first American supermodel and has graced the cover of the Sports Illustrated swimsuit issue numerous times.
Pam Grier
Pam Grier first made a name for herself in the Blaxploitation films like Foxy Brown, and The Bird Cage. She later starred in the film Jackie Brown, directed and written by Quentin Tarantino, for which she received a Golden Globe nomination. Many people consider her to be the first female action star for her tough-spirited characters she's portrayed.
Elke Sommer
German-born actress Elke Sommer was spotted one day by a film director in Italy and immediately started appearing in on the big screen. She was also one of the most popular "pin-up" girls of the time as well as an international sex symbol throughout the '60s.
Olivia Newton-John
This blonde bombshell is the one and only Olivia Newton-John who is both an accomplished actress as well as a singer/songwriter. She first made a name for herself in the music scene but branched into acting in the late '60s. Her big break on the silver screen was in 1978 when she landed the role of Sandy alongside John Travolta in popular musical, Grease.
Hedy Lamarr
This beautiful brunette is Hedy Lamarr, who was a poular film star during the '30s, '40s, and '50s. Born in Austria, Lamarr started out in the beginning of her career doing a few films in Germany. But while living in Paris she crossed paths with Louis B Mayer, who happend to be the head of MGM Studios. He appaarently offered her a movie contract in Hollywood and the rest was histoy.
Sharon Tate
Sharon Tate is one of my personal favorites on this list. There's just somthing about that natural beauty and drop dead gorgeous eyes. Tate was featured in a few small television spots but also appeared in several movies. She was married to film director, Roman Polanski. She appeared to be one of Hollywood's most promising new actresses. But unfortunately she was brutally murdered while 8 months pregnant by Charles Manson's family while her husband was out of town.
Barbara Eden
It's hard for me to see Ms. Barbara Eden as anyone but that pretty little genie, named "Jeannie", from the hit sitcom I dream of Jeannie and I know I'm not the only one. But she actually was a well-accomplished actress both on television, and onstage performances as well as being a singer.
Katharine Ross
Starring three of the most popuar films of the 1960's-'70s such as Butch Cassidy and the Sundance Kid, The Graduate, and The Stepford Wives, Katharine Ross made a name for herself as one of the sex symbols of that time period.
Eartha Kitt
Eartha Kitt was once described as the "most exciting woman in the world" according to Orson Wells. She was a very talented dancer, actress and singer that had a very distinctive voice which helped her earn top 10 status with songs like "Santa Baby". You might also recognize her from her role as Catwoman in the third and final season of the TV series Batman.
Virna Lisi
Virna Lisi is an Italian born actress that made her Hollywood debut alongside Jack Lemmon in How to Murder Your Wife in 1965. According to reports Hollywood produces were searching for "a new Marilyn Monroe" and Lisi was the perfect fit with her blonde hair, blue eyes, and natural beauty.
Vivien Leigh
Most of you will immediately recognize the ravishing beauty as the great Vivien Leigh, who famously played Scarlet O'Hara in the timeless classic Gone with the Wind. Leigh was an accomplished actress both onscreen as well as on the Broadway stage. She has gone down in history as one of the top 15 actresses of all time, and with a face like that also one of the most beautiful as well.
Josephine Baker
Josephine Baker was the first African American woman to star in a major motion picture back in 1934. Her career would continue over the next three decades as a world famous entertainer. She was also a known activist during the Civil Rights Movement and apparently was offered leadership after the assassination of Dr. martin Luther King Jr.
Diahann Carroll
This lovely lady is Diahann Carroll, who was a popular singer as well as television and stage actress who received numerous awards for her work. She starred in some of the first films to feature casts consisting mainly of African Americans. Her natural beauty and gorgeous smile won the hearts of men all over the world.
Barbara Bach
You may recognize Barbara Bach as one of the beautiful "Bond girl's" from the 007 film The Spy Who Loved Me. In case you're one of the few people that aren't fans of the James Bond films, maybe you've heard about a group of musicians who called themselves the Beatles. I say that because Bach married the drummer, Ringo Starr.
Jayne Kennedy
To call Ms. Jayne Kennedy just an actress is a major understatement. She was also a model, producer, public speaker, corporate spokeswoman, philanthropist, and the list goes on. Coca Cola described her as one of the "most admired women in America" as well as the one of the "20 greatest sex symbols of the 20th century" by Ebony Magazine.
Goldie Hawn
Even though I was just a young kid when Goldie Hawn had just started to reach her stride in her acting career I always had a major thing for her. Now that has transferred to her daughter, Kate Hudson, who looks almost identical to Goldie and is closer to my age. The lovely Goldie Hawn has been nominated numerous times for her many roles she's played over the years. But it's that infectious laugh, beautiful eyes and gorgeous smile that made her an international sex symbol.
Catherine Bach
As a lifelong car guy It's possible that Catherine Bach might've been my first crush due to my love for the Dukes of Hazzard. Bach of course played the iconic Daisy Duke with her long gorgeous legs riding around in the white Jeep. What most people don't know is that she actually started her film career as one of the children in the Sound of Music.
Related Posts
On This Day, September 6th
B R
On This Day, November 2nd
B R
On this Day, March 21st
B R
The Burning Man Annual Gathering Is The Ultimate Form Of Artistic Self Expression
B R
On This Day, September 27th
B R
Bizarre Stories From European History (Part 2)
Elizabeth Lundin
Back in the 1960s and the 1970s, game shows were all the rage on television. These competition series captured a wide range of audiences. The old viewers were looking for a program that would entertain them, while the younger ones were look…
The 60s was a decade that was filled with a lot of ups and downs for the nation. We saw a man walk on the moon, listened to The Beatles for the first time, were introduced to the feminist movement, and saw the end of the Civil Right one. Wh…
From Sonny and Cher to Ike and Tina Turner, the greatest oldies romantic duets of the 50s, 60s, and 70s celebrated the perils as well as joys of love. Duets have always been perfectly suited to oldies music and love songs, mainly because ro…
The 1960s were characterized by culture clashes and conflict, but also saw great progress with regard to social and environmental issues. Learn about the most important figures and events of this decade. The 1960s were characterized by cult…
Beauty experts share their tips on how to create 70s inspired hair, makeup, and nails. Find out how to get the look inside. Confidence, Community, and Joy @Claudiu.burca In This Article The 1970s was an iconic era for more reasons than we c…
Whether you decide to increase or drop coverage, your 60s and 70s are often a good time to reexamine your life insurance options. We believe everyone should be able to make financial decisions with confidence. And while our site doesn't fea…
The holiday season is a time for giving, and every year huge numbers of people end up giving the same thing. The holiday season is a time for giving, and every year huge numbers of people end up giving the same thing. This year, high-tech g…
It's a common myth that sex gets worse as you get older, or that the 70s isn't a time for sexual activity. We spoke to individuals and couples in their 20s, 30s, 40s, 50s, 60s and beyond to get a glimpse of how sex changes through the decad…
From the 1960s to the 1980s, various music styles emerged ranging from heavy metal to disco. How did these genres originate and evolve over time? There are many different genres of music and each of these have several sub-genres. From the 1…
The Vietnam war was a dominant musical theme in the '60s and '70s. Many antiwar protest songs that emerged from that period remain 21st-century protests. The Vietnam war was a dominant musical theme in the '60s and '70s. Antiwar songs were …
Jenna Coleman discusses playing Marie-Andrée Leclerc in The Serpent, '70s beauty and style, and her wellness routine. Read her interview inside. Confidence, Community, and Joy If you've watched The Serpent, you know it's one of the most thr…