Before the appeal court on November 18, both Ms. Diep Thao and Trung Nguyen had different actions to take advantage of public opinion. Without appointment, both of them sent a "help", Thao's side was for herself and her children, and Trung Nguyen's side was for 5,000 employees of the company.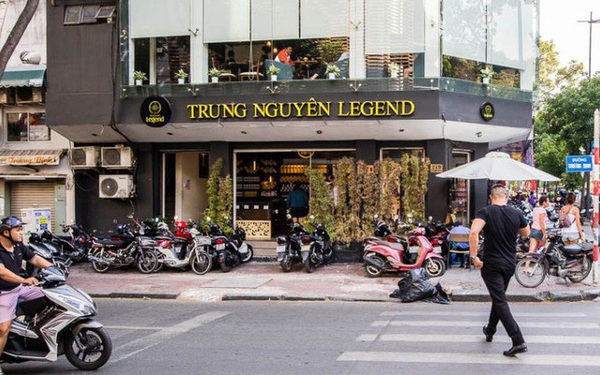 Recently, Trung Nguyen Group has published a "request for help" with the content "help us (Trung Nguyen) in protecting workers' rights in accordance with the law", pre-installed access to the Vietnamese website of this business. The representative of the applicant is the Executive Committee of Trung Nguyen Group Joint Stock Company.
The basic content is denouncing Ms. Diep Thao's "unrighteous behavior", calling on the competent agencies and levels to protect the legal and legitimate rights of 5,000 workers in Trung Nguyen.
The main content of the application is as follows:
Trung Nguyen brand was founded by Mr. Dang Le Nguyen Vu and his parents Mr. Dang Mo and Mrs. Le Thi Uoc on August 15, 1996. The entire start-up capital of Trung Nguyen was owned by Mr. Dang Mo and Ms. Le Thi Uoc because they had to sell all their possessions of 2 houses and samples of fields so that Mr. Dang Le Nguyen Vu could start a business and set up "Trung Coffee Company. Original".
More than two years after starting his business, in 1998, Mr. Vu became closer to Thao. Therefore, Ms. Thao is not the founder of Trung Nguyen. Ms. Le Hoang Diep Thao is a person who has contributed to the development of Trung Nguyen brand. What Thao enjoys is generosity, not calculated by Mr. Vu's parents because everything is from Mr. Vu's parents, but Mr. Vu's parents have left their sons and daughters-in-law to enjoy the most.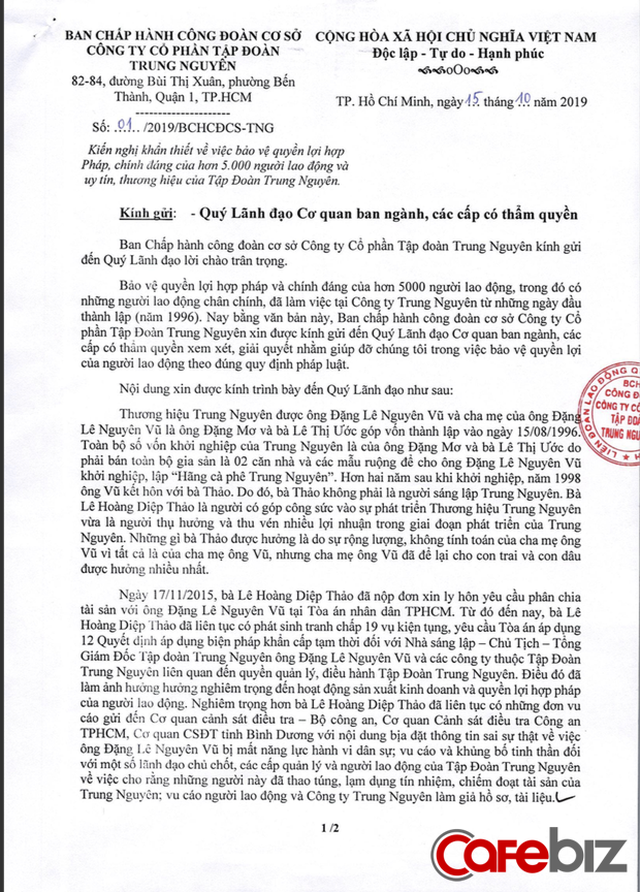 The first part of the application for "help" of the Central Trade Union Executive Committee of Trung Nguyen Group Joint Stock Company.
On November 17, 2015, Ms. Le Hoang Diep Thao filed for a divorce request for division of assets with Mr. Dang Le Nguyen Vu at the City People's Court. HCM. Since then, Ms. Thao has constantly arisen 19 disputes, asking the Court to apply 12 decisions to apply provisional emergency measures to the Founder – President – General Director of Xi. Trung Nguyen delegation Mr. Dang Le Nguyen Vu and companies of Trung Nguyen Group, related to the management and operation of the Group.
That has seriously affected the production and business activities and legal rights of workers. More seriously, Ms. Thao has repeatedly filed complaints to the Investigation Police Agency – Ministry of Public Security, Police Investigation Agency. HCM, Binh Duong CSDT with content fabricating false information about Mr. Vu's loss of civil act capacity.
In addition, Ms. Thao also slandered and mentally persecuted a number of key leaders, managers and employees of Trung Nguyen Group on the belief that these people had manipulated, abused trust. , appropriating Trung Nguyen's assets, slandering employees and Trung Nguyen Company falsifying records and documents.
With a series of acts of slander and vandalism, the escalation is fierce; a series of malicious tricks, fabricating false information of Ms. Thao with the aim of appropriating by Trung Nguyen Group, through seeking ways to scramble, destroy, paralyze all activities. production – business as well as hindering the development of the Group.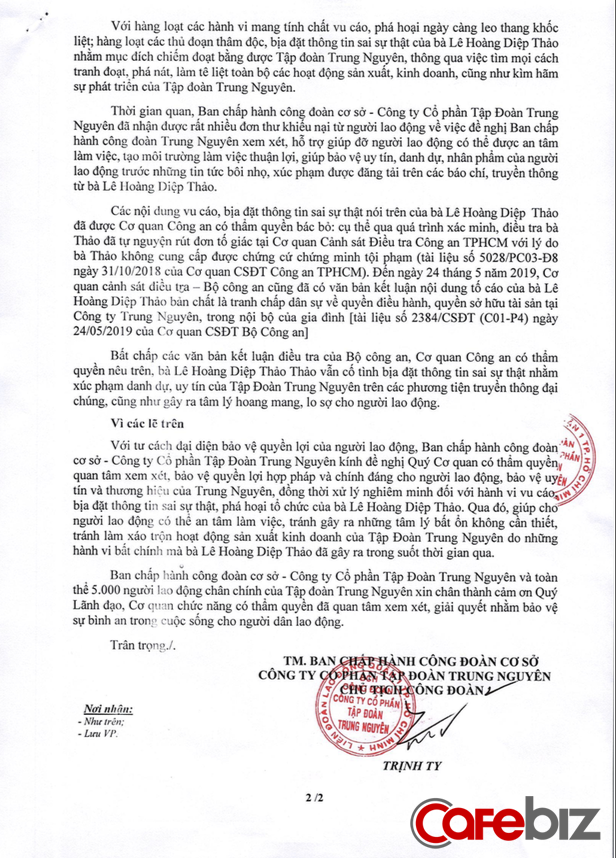 The back of the application for help.
Recently, the grassroots trade union executive committee – Trung Nguyen Group Joint Stock Company has received a lot of complaints from employees regarding the proposal of the Executive Committee of the trade union to consider and support workers. can work peace of mind, create a favorable working environment, help protect the reputation and honor on the dignity of employees against the smear and insulting news posted in the press – media. from Mrs. Le Hoang Diep Thao.
The contents of slander, fabricating false information mentioned above of Ms. Thao have been rejected by the competent Public Security Agency: specifically, through the verification and investigation process, Ms. Thao voluntarily withdrew the denunciation letter. at the Police Investigation Police Agency. HCM on the grounds that Thao could not provide evidence to prove the crime. On May 24, 2019, the Investigation Police Department – Ministry of Public Security also issued a written conclusion that Ms. Thao's content of accusation is essentially a civil dispute over the right to operate and property ownership in Trung Nguyen, within the family.
Despite the investigation conclusion documents of the Ministry of Public Security and the competent police agency mentioned above, Ms. Thao still fabricated false information in order to offend the honor and reputation of Trung Nguyen Group on The mass media, as well as cause anxiety, fear for workers.
Because of the above
As a representative to protect the rights of employees, the Executive Committee of the grassroots trade union – Trung Nguyen Group Joint Stock Company requests the competent authorities to consider – protect the legal rights and plausible for the workers, protecting the reputation and brand of Trung Nguyen, and strictly handling acts of falsely fabricating false information, sabotaging Thao's organization. Thereby, helping the employees can feel secure to work, avoid causing unnecessary psychological instability, avoid disturbing the production and business activities of Trung Nguyen Group due to the unrighteous acts that she Thao has caused this all the time.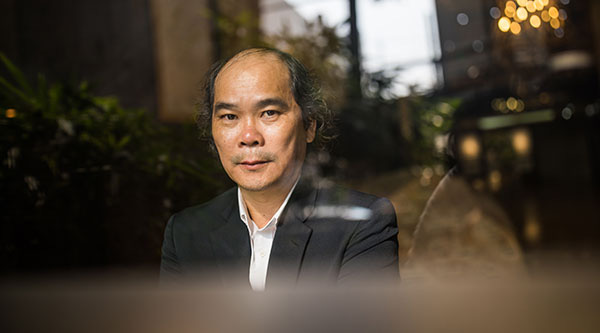 Mr. Trinh Ty – Chairman of Trung Nguyen Group Trade Union is the representative in the above 'request for help'. Photo: gcrmag
On her official Fanpage and in a meeting with reporters on the afternoon of November 17, Mrs. Diep Thao denied all the above mentioned claims of Trung Nguyen.
On the Fanpage, Ms. Thao wrote the following:
In other words, without my capital given to Mr. Vu in the 3 most difficult times, there would never exist Trung Nguyen in this world so that the greedy people would inculcate in robbery.
The first time: At the beginning of his career, in 1996, his uncle rented a rickety wooden house to make Trung Nguyen coffee firm for 1 million VND. Suddenly, he reclaimed his capital and reclaimed his home. I have to give Vu the money.
The second time: When he was a poor student coming to Saigon to look for a godfather, Mr. Vu was very wealthy by his uncle but not only did not help, not be pregnant, but he was chased out. It is worth mentioning, he did not contribute any capital but asked to withdraw capital. At that time, Mr. Vu did not have to give, but his uncle took all the raw materials to make coffee, causing Vu's business to suffer. I also had to give my capital to Mr. Vu to start a business.
The third time: Because of disobeying my advice, Mr. Vu agreed to cooperate with a person to re-establish Long Xuyen in 1997 and after 8 months, he was completely bankrupt and bankrupt. I had to leave my job at the post office to agree to marry him. When I came back to live with him in 1998, I took him by step by step, and gradually ran Trung Nguyen, directly changing the whole business landscape of Trung Nguyen.
Despite this, they have put the thing that Mr. Vu has been rich since 1986.
Then they said his parents sold 2 houses in M'Drak district. Currently 2 houses are still there. In 1995, these 2 apartments sold 50 million but the buyers bargained, requested to reduce to 30 million, then asked for installments, until it was paid in a few years. So, where do they get money to make up that the money Mr. Vu built Trung Nguyen came from selling houses?
Recently, my lawyer came back to this house and met the owner of the house. My lawyer recorded the whole thing to have real evidence, ending their lie allegation.
Ms. Thao said, I am still continuing to send documents about the 'Trung Nguyen intestinal' acts of 'interest groups' to the police and police investigation agencies. She believes that this is not her family's affair, but it harms the interests of shareholders and the transparency of the operation of a large corporation, need to bring to the Criminal Court.
With the opposing sharing of words from both sides, if not an insider and knowing the 'secret palace' of the Trung Nguyen family, it is difficult to know what is the truth.
Ms. Le Hoang Diep Thao revealed about the ability to 'hide the sky' of 5 'interest groups' that are manipulating Trung Nguyen: They have withdrawn trillions of VND from the company, Vu's three brothers with severe diabetes were brought up. mountain to 'heal in 7 days' but not over
After a period of silence, Le Hoang Diep Thao suddenly revealed: 'In the three most difficult times, without my capital to Vu, there would never exist Trung Nguyen in this world! '
Interviewing Ms. Le Hoang Diep Thao 'made up' of her co-founder Trung Nguyen: After failing the exam, was not recruited to the new 1080 Station to follow Mr. Vu's family in coffee business?
There are continuous contradictions in the divorce between Trung Nguyen and his wife.
According to the plan, on November 18, there will be an appeal hearing for the divorce between Ms. Le Hoang Diep Thao and Mr. Dang Le Nguyen Vu.
Earlier, in October, Thao filed a petition to the court to privately hear the divorce so as not to affect her children.
However, in November, Ms. Thao again submitted a petition to the court publicly. The reason is because she found that there was much inaccurate information about the divorce, so she wanted to publicize the public to understand the truth.
However, what was surprising was that just a few days after Ms. Thao proposed to go public, it was Dang Le Nguyen Vu's turn to ask the court to hear the divorce, on the same reason as Ms. Thao before, to does not affect the children, and ensure business secrets.
At this time, it is not clear whether the Trial panel will publicly or privately hear this famous divorce.
Earlier, at the end of March 2019, the HCMC People's Court ruled the divorce between husband and wife Dang Le Nguyen Vu and Ms. Le Hoang Diep Thao.
According to the ruling, real estate will be divided in two, Mr. Vu holds the real estate block worth 350 billion dong and Thao holds the real estate block worth 375 billion dong. Ms. Thao will have to pay Mr. Vu the difference of more than VND 12 billion.
Money and gold were determined by the court to be worth 1,764 billion dong and Trung Nguyen was worth 5,737 billion dong. The court ruled that these were both common property between the couple and they were shared with Mr. Vu at 60% and Ms. Thao's 40%. Mr. Vu received more than Thao because the court considered Mr. Vu's contribution.
At a ratio of 6-4, the actual value of Mr. Vu's division is VND 4,863 billion (including real estate), while Mr. Vu owns VND 6,087 billion.
Meanwhile, Ms. Thao is divided 3,363 billion dong, while she owns 2,139 billion dong. Also according to the court ruling, Ms. Thao had to hand over all the shares in Trung Nguyen to Mr. Vu and get the money back with the corresponding value. Therefore, Mr. Vu will have to transfer Ms. Thao a cash amount worth more than VND 1,200 billion.

Asset division under court ruling on March 27
After the court ruling, Ms. Thao said that the sentence was "too unfair" to her mother and daughter and decided to appeal the entire sentence.
Meanwhile, Mr. Vu's side also appealed, proposing to divide the assets by the rate that Mr. Vu received 70%, Thao received 30% instead of 60-40.
The VKS also had an appeal that pointed out many violations of the first instance court requesting the appeal to cancel the entire sentence.
During the first hearing on September 18, Ms. Thao was not present and the trial panel delayed the meeting at the request of Ms. Thao and the lawyer. On the hearings on October 29, 30 and 31, Ms. Thao asked for a moratorium on health reasons.
Clean and compress CSS files for an optimized website. Try the free online tool by HTML Cleaner.
While Mr. Dang Le Nguyen Vu 'attacked' directly Ms. Thao, Mrs. Le Hoang Diep Thao 'attacked' those whom she thought were "interest groups" in Trung Nguyen. According to her, they are the source of all sorts of problems, five groups are manipulating both Trung Nguyen and Vu, as well as the results of the first-instance Court sessions.
On November 17, the day before the appeal of the noisy divorce between husband and wife Trung Nguyen and his wife, Mrs. Le Hoang Diep Thao held her first press conference with the main purpose of complaining, " I want the Court canceling the first instance judgment, I also want to withdraw the application because I have never really wanted to divorce, I want the righteousness – justice is enforced and I want to have a say in the public opinion and the press so everything can be legally handled law ".
According to Ms. Thao's assistant, she was quite ill with spine, which was the result of an unfair first instance judgment, so Ms. Thao could only sit and talk for 45 minutes to 1 hour, after which she have to go to the hospital for a checkup. With a rather tired manner and a sad face showing the mood of the person who is sick as well as suffering from all injustices, in a choked voice, Ms. Thao had a lot of new shares in that press conference.
To broaden the public opinion, we would like to quote verbally the words of Ms. Le Hoang Diep Thao to the media.
A baby had nearly died during that 49-day meditation session
I am very worried about Mr. Vu. Many years ago, I and my four children had to leave the company with two empty hands and 'dear, so you'.
It can be said that I spent my youth to spend with my husband, to make him shine and not even want people to know me. I'm not good at going out as a media.
During the 20 years of Trung Nguyen 's development , I was the one who put the company's bricks in the right place, developing the company from 11 employees to 5,000 employees and 7 factories. I participated in building factories, developing branches, expanding into the international market, setting up a model of cafes to be able to grow in large numbers … Once I got into the business. Anything done extremely thoughtful.
Mr. Vu is a man with great will, heart and talent, has done many things for the country. I also always try to build and preserve his image in front of everyone. Now, we can see the 'interest groups' trying to push my mother and daughter out and build up Mr. Vu's image like that. They are so evil!
For the past 6 years he's been on the mountain forever, I'm terribly worried, but I can't see him and there's no chance to take care of him. Many people say that Vu needs his wife and children by his side right now. Everything is finally meaningless, family is the most sacred place. No man or anyone wants his day to become abnormal like Mr. Vu.
The 'interest groups' are emerging in Trung Nguyen , they flattered and pushed Mr. Vu up. There are people with real intrigues, bringing people together in a group to manipulate.
In 2012, Mr. Vu had a motorbike accident during a crossing. He fell down the road and was badly scratched. He then entered Saigon General Hospital. After 2 to 3 days, he got better and went home as usual. 1 month, he recovered. We should have asked him to have an MRI scan at that time. After that, there was a brother whom Mr. Vu treasured and lost. Mr. Vu is a very emotional person, so maybe he was heartbroken at that time.
After Mr. Vu returned from the US, he found new ways to get out of that negative state, and by chance, some around him instigated and seduced him to meditate. But in my opinion, it is not meditation, who meditates fasting and drinking for 49 days.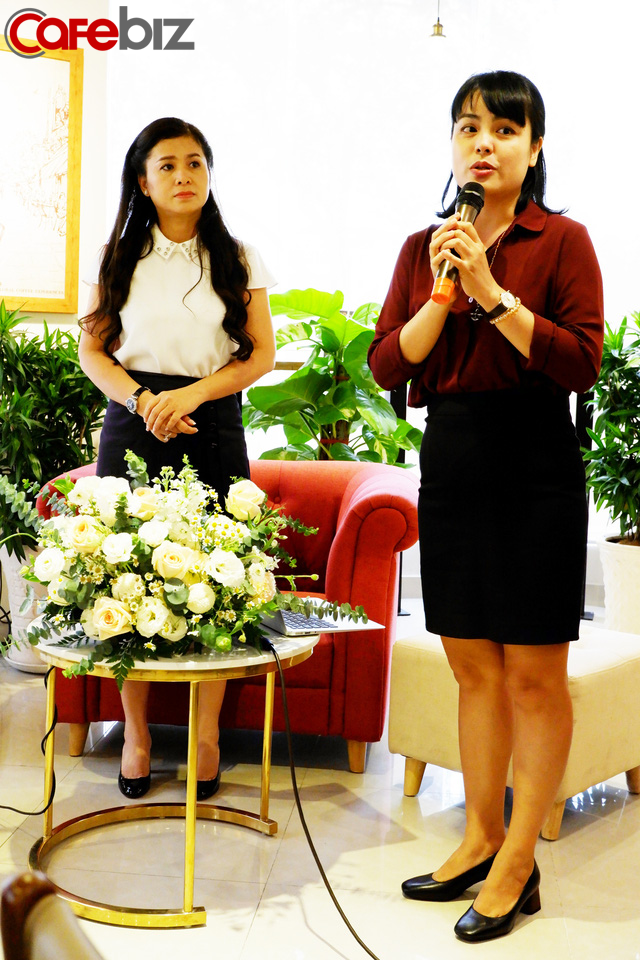 According to Thao's assistant, Thao is suffering from severe spinal pain.
During that course of meditation, there were about 23 people, at week 4, a boy almost died and had to go to emergency. I tried to stop him from doing that course, but it didn't work, because they put him in the maze. To me, he is a precious person in this world, but he himself does not care about his life.
After 49 days in the mountains, from 68kg he only had 42kg, two people had to help him go into the house. You have nothing left to look at, very guilty. When people don't provide food for the body, the brain shrinks. That M'Drak farm was formerly a prison camp, and many people went there and died.
For 6 years, he was in the mountains, they built him a place to live in a rat cave, saying that he could stay there before he could be flexible. They are so cruel! Someone was a close friend, but he brought an exorcist up and down, then instigated Vu to believe that he was speaking Sanskrit, meeting ghosts and controlling ghosts to save the world. They also brought teachers to the company and said that there is a cure for 7 days. In Trung Nguyen has the Heal Director, the Dray Nur Waterfall project was renamed Heal. I was furious when they presented a healing trick and said that Mr. Vu had the healing power.
'Interest groups' prevented me from taking Mr. Vu down to mourn my father
Vu's three brothers are an old beauty – he is 1m78 tall, a gentle person. In 2017, he had severe diabetes and was taken up there to 'heal in 7 days'. I and my 4 children strongly opposed and wanted to be with him to look after him. My children said that my father studied doctor but he never worked as a doctor so he could not cure it but had to take his grandfather to the hospital. Please take your grandfather away.
However, Vu's father still believed and stayed there to heal. There, Vu's father was forced to fast and drink something. Mr. Yu is also currently drinking water in whatever bottle they provide.
On the 9th of New Year, I heard that Vu's father was about to die. They took Mr. Vu's father to a rural area, on a commune health car, because it rained, dirt and mud were stuck on his car and his people were very dirty. His car behind, 8 cars ahead. They forbid my children and I from returning, but we still went home. While he was dying, I sat alone in the room with him, the others did not dare come near.
Afterwards, I took my car to M'Drak and asked Mr. Vu to take care of his funeral and take care of him. But I was unable to meet Vu, who had three dirt trucks blocking the front of the farm and 60 puppies to scare me back. I stood in the dark, relying on the Commune Police and the farm manager, but I still couldn't see her husband, so I had to return to take care of his funeral. I have to go back to fulfill my obligations.
When I got back, they had prepared it. Two days they still did not allow him to be buried because he said he had not died. They sent two people, one to replace Mr. Vu for his funeral, the other to receive guests. I told them that I am the eldest, I cannot accept someone standing beside me while my husband is still alive.
Because they did not allow my children to go home, they were crying like rain when they returned, because my grandfather was left on the farm without medical treatment. The people there all saw how my mother and I were treated. Our 5 children and I went up to the family of Dak Lak Provincial Party Secretary and the Director of Dak Lak Provincial Police Department to get access to Vu, but they were unsuccessful.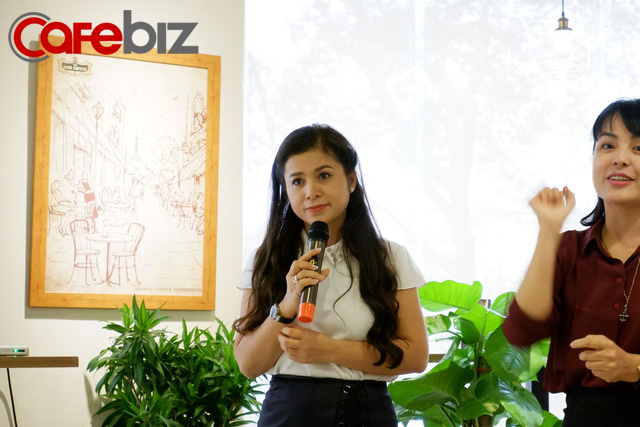 Thao meets the traditional world and wants to "call for help".
Vu did not leave M'Drak to mourn his father, although I did not want my children to witness it, but it was late and it was late. I really want him to leave peacefully! Then I also asked to take him to a temple in the city. Ho Chi Minh City to my mother and I have the opportunity to worship, but after 49 days, two of Mr. Vu's brothers prevented my mother and children from coming to burn incense for him.
There are some that have very serious consequences, our children lose grandfather, lose three, and I lose a lot – like a quarter of my life. So, I want to take you to the hospital, so that I can have treatment
The deepest reason why Thao filed a divorce petition to the court was to prevent the 'interest groups' from transferring Mr. Vu's property to another person.
'Interest groups' are seeking to rob our family's possessions. They find a way to withdraw money from suppliers, divide prices, take money from the company. As everyone knows, the process of running a business has many problems. Currently, Trung Nguyen has changed his skin, even I could not recognize the company that I single-handedly built. Trung Nguyen Group has become deformed! They are very scheming and calculating!
There are currently 5 'interest groups' that are manipulating the entire operation of the company. I have posted their complete list and behavior to the Ministry of Public Security. These 5 interest groups have caused great damage.
A year in the country, I mentioned the Fanpage name, they are getting more and more mobile. Mr. Vu certainly doesn't go to weird things like what he shows when you connect to wifi at Trung Nguyen Legend. The 'interest groups' are increasingly motivated and treating my mother and me as outsiders.
In the dossier set of the judgment, there is Trung Nguyen account set up in the period of 2015 – 2017, 1/25 cash withdrawal accounts is over VND 200 billion. That must have a payment order, the auditing unit came to check the right and wrong of that expense. In recent years, Trung Nguyen also bought a lot of super cars. They will intervene in the procedure – accounting, rapid depreciation, then buy back with a cheap price. The company's money was gutted over 1,000 billion. The fact that they misappropriated my G7 factory also cost the company more than VND 1,000 billion.
I just want to go back to take care of my husband for the children's company, I have to keep it so that I can give my son a prosperous company in the future. Mr. Vu is the Chairman and CEO of 7 companies, but what will he end up in the mountains ?! So I was very worried.
Now I have created 100 other brands, nor can it be like Trung Nguyen. Trung Nguyen is a company that started and went up with the development of the country. I hope you understand the story of Trung Nguyen's development – building as well as our court disputes.
I do not want to divorce. But because I heard they told me that they would transfer Mr. Vu's property to another member of the Deng family, I had to file a divorce petition, so Vu and Trung Nguyen's properties would be subject to Court Freezing, no transfer, my mother and I will keep it.
It was nearly 9 o'clock for Ms. Thao to not be present while Mr. Vu arrived early and entered the trial area. Ms. Thao's lawyer said she was hospitalized last night.
On November 18, the High Court of Ho Chi Minh City reopened the appeal session for divorce between Ms. Le Hoang Diep Thao (SN 1973) and Mr. Dang Le Nguyen Vu (SN 1971, Chairman and CEO of Ca Group. Trung Nguyen coffee).
The Panel consisted of three senior judges, of which judge Nguyen Huu Ba presided (the remaining two judges were Truong Van Binh and Phan Duc Phuong).
It was nearly 9 o'clock for Mrs. Thao to arrive while at 7 o'clock Mr. Vu went to court and entered the trial area. The Panel is conducting a closed procedure where only the litigants and the lawyer are present in the courtroom.
It is known that Ms. Thao presented a paper that she was admitted to the hospital at 22:00 last night and there was no application for postponement. The lawyer at Thao's side asked to postpone the trial.
Mr. Vu's lawyer and VKS representative disagree, suggest that the Panel still conduct the trial. The court entered a conference and decided that the afternoon would continue. The court will consider the legality of the hospital paper presented by Ms. Thao. The Panel is currently meeting to take further steps.
This is the third time this trial is scheduled for trial. Earlier, two appellate hearings had been opened but after the Panel of Judicial Procedures, the trial was postponed. The main reason is the absence of the plaintiff, Ms. Thao.
As PLO informed, Thao and Mr. Vu were married more than 20 years ago, having four children. After a long time of many conflicts, Thao filed for divorce in 2015. From here, the legal battle for divorce between the two parties has lasted until now.
After many years of accepting and settling, the Ho Chi Minh City People's Court opened 10 conciliation sessions but the two sides could not find a common voice. Until March, the People's Court of Ho Chi Minh City issued a verdict. However, right after that from both sides as well as VKS both appealed and protested against this judgment.
The Court of First instance of Ho Chi Minh City People's Court declared to accept the divorce of Trung Nguyen and his wife and gave her children to Thao to nurture, Mr. Vu supported 10 billion VND each year. The Panel determined that Mr. Vu "had greater merit", owned 60% of the common assets of the couple, took control of Trung Nguyen and was obliged to return Thao in cash corresponding to the number of shares she owned. .
Later, Ms. Thao appealed, saying that the first instance verdict violated the serious procedure. Specifically, she said that at the trial, she decided to withdraw the divorce application. The court should have suspended the case to reunite her family. However, the court of first instance disregarded the law to manipulate her and her husband to divorce.
Regarding the common property of shares and capital contribution, Thao appealed that when the court ordered her to hand over her divided shares to Mr. Vu and receive money that the Panel had "deprived" her property, Revoke the rights of a shareholder with a large proportion of shares in Trung Nguyen Group.
For gold, foreign currencies, cash equivalent to more than 1,764 billion, according to Thao, HDXX argued "the money in the account is of the common" but did not collect evidence about the time of creation, the establishment of the establishment, no held conciliation on Vu's request for counterclaim, so the court's decision to divide the money over VND 1,764 billion is against the rules. In addition, the fact that the First Instance Council determines the distribution of assets by Mr. Dang Le Nguyen Vu 60%, Ms. Thao 40% is not objective, biased on the one hand and denies Ms Thao's contribution to the administration. Trung Nguyen Group …
In contrast, Mr. Dang Le Nguyen Vu only appealed and asked the appellate to consider dividing assets at the rate of 70% (Mr. Vu) and Ms. Le Hoang Diep Thao 30% for the part of assets being shares. capital contribution of both in Trung Nguyen, assets are money, gold … more than 1,764 billion.
Ho Chi Minh City People's Committee also had a 16-page appeal on more than 10 issues related to the first instance verdict. And the VKS asked the appellate court to cancel the first instance verdict.
PLO will update the proceedings of the hearing in the following bulletins.
The free online CSS beautifier lets you beautify stylesheets. Check it out now!